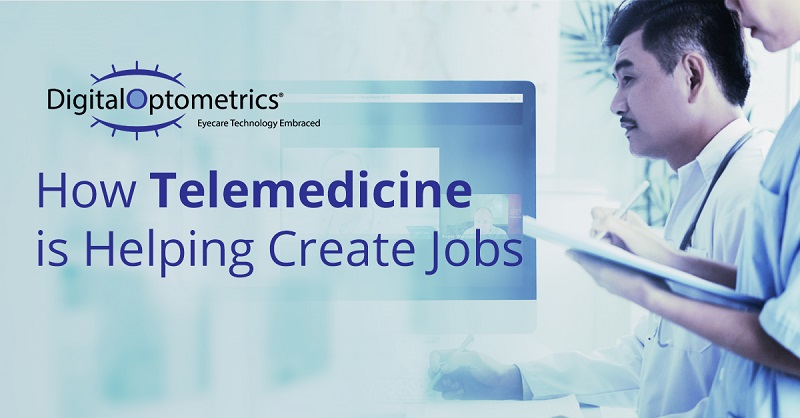 Published April 9th, 2019
How Telemedicine Helps Create Jobs
Telemedicine is the newest technology providing patients a more convenient, enjoyable, healthcare experience. It allows for an expanded level of patient care. As rapid communication becomes the norm, telemedicine communication between patients and healthcare professionals along with establishing strategies for treatments can take place using computers and other internet-capable devices.
Increased demand on the patient level for faster, convenient service along with the advantages provided to the healthcare industry has resulted in new employment opportunities in both patient services and the medical healthcare sectors. These opportunities are not limited to just within the healthcare industry as professionals from the IT sector are also being recruited to help meet these needs along with helping improve existing platforms to meet the challenges of fast and effective digital interaction for both urban and rural communities.
New Job Opportunities
Recent reports indicate a steady increase in the need for workers in telemedicine-related fields, especially for more remote areas which are typically underserved. This need promoted the U.S Department of Education to offer skill-based careers with millions of dollars in funds being released for training, workshops, and programs focused on finding and educating new workers.
The New England Journal of Medicine (NEJM) has indicated that rural areas along with inner cities will benefit from using telemedicine to access experts within the medical community and related networks. The lack of facilities in these areas can be overcome through the use of smartphones, computers, and other internet-capable devices. Patients can be diagnosed and receive treatment recommendations remotely rather than travelling hours in some cases to locations which are often understaffed in comparison to the number of patients seeking assistance. This benefits both the patient and provider as services can be provided in real time.
The addition of telemedicine to the medical field has allowed small communities to create their own clinics which provide technology and space along with assistance in helping connect patients and physicians remotely. In some cases, multi-lingual staffing is in demand to ensure all demographics can be assisted and served even in the most remote locations of the country.
Opportunity for Growth
While telemedicine might seem like a complex idea, with technological advances it has become quite simple. Many of the same interactions and consultations which take place between patients and experts in clinics and hospitals are simply replicated in a virtual environment using webcams, computers, and smartphones. This level of convenience for patients is unmatched as they are able to discuss problems with a physician from home or at work, saving time and expense compared to travelling to a health facility and sitting in a waiting room.
The advances in technology have increased opportunities internationally as well as locally. A specialist is able to expand and offer services wherever they are needed which allows both business and career growth. Remote healthcare has become one of the major job opportunities on the global stage for both healthcare and IT professionals. The Institute of Healthcare Consumerism reported a 32-percent increase in demand in 2018 for telemedicine related fields. Members of smaller communities as well as remote locations can now advance their careers without the need of relocation to larger, metro areas.
We live in a world where technology is continually advancing, and progress in the healthcare industry is no exception. The days of a doctor performing a house-call are distant memory and the concept of on-call physicians has become outdated outside of emergency facilities. The need to adapt and increase efficiency along with convenience is driving the concept of telemedicine with patients beginning to embrace this idea along with the associated technology as it is being introduced around the globe. Jobs are being created in a variety of fields within the healthcare industry as a result.
Along with medical practitioners integrating telemedicine as a part of their practices, telenursing is also increasing in prevalence with workers more willing to work shifts to provide 24-hour coverage to meet healthcare demands and needs virtually.
Conclusion
While some might view telemedicine as a new concept, it is in fact a progression from call-center services that have been in-use for decades, including areas such as 911-operators. In the case of 911 centers, operators are trained and provided tools to help analyze problems in real time, requesting assistance from specific services as needed along with providing direct feedback to callers.
The growth in the industry of telemedicine will be a combination of existing practitioners taking advantage of new opportunities along with new workers entering the industry as jobs are created to meet the needs of a continually growing population.
People face financial and geographic concerns in relation to medical needs and telemedicine is a step in the right direction as a solution towards addressing these concerns and providing a valuable and much needed service in both urban and rural under-served areas. Telemedicine can be a channel to not only saving lives and meeting patients' needs conveniently, but also can help reduce unemployment and increase employment opportunities on a global scale.
Citations:
Cordina, et. al.(2018, July).
Retrieved from:
https://www.mckinsey.com/industries/healthcare-systems-and-services/our-insights/healthcare-consumerism-2018